The really interesting question in the recent poisoning case in the UK is not if the Russian Government is implicated – it looks highly likely (see below) – but why they would perform such an act now.
When trying to understand the context, two factors are key in our view.
Firstly, Russia is in an expansionist phase, constantly testing the resolve of the West to resist it.
Recent examples are many and varied. Russia is firmly in the camp of rogue state in terms of its murderous support of the Assad regime in Syria, as it seeks to expand its influence in the Middle East. It continues to agitate against the Ukraine, maintains a threatening posture against the newly independent Baltic states, and threatens the USA with a "new generation" of nuclear missiles.
Secondly, Putin is up for re-election. He is a populist "strongman", and that's why his rule is virtually unchallenged, although factions within the ruling elite in Russia do exist, and jockeying for power in the event of any departure by Putin is constant. In this, Russia has hardly evolved from the days of communist control, or frankly, the Tsars.
Viewed in this light, the murder of a minor spy who has been quietly living in the West for some time – which would be re-reported in Russia, of course – serves two purposes.
It tests the West's resolve to resist brazen Russian aggression without risking an armed conflict.
Second, it makes Putin look tough. Again.
Foreign Secretary Boris Johnson thus faces a serious test. If the attempted murder (or it may turn out to be a triple murder, depending on the health of those most affected) turns out to be very obviously to be laid at the feet of the Russian State, what is an appropriate response?
Will the British worry overmuch about the unpleasant despatch of a spy – deaths in that arena happen constantly, of course – and the unfortunate collateral damage of a Wiltshire policeman? Or will they make a lot of huff and puff and do nothing much?
Our money is on nothing much. Perhaps a few diplomats expelled and a strongly worded note.
The British economy – especially the City of London – increasingly depends on the growing petro-dollar and gas-dollar influx of funds "washed" through banks and finance houses in London. And funds from less obvious sources inside the Russian kleptocracy. Putin knows Britain wouldn't want anything to upset that, especially when complications from Brexit means those funds could easily get switched to other markets. So this event tests how brazen Russian behaviour can be before any real damage is done to the relationship.
Ordinarily, of course, the Brits would turn to their American colleagues for advice on how to handle this latest "Beast from the East" event. (The "Beast from the East" was the nickname given to the recent blast of cold air from Russia that dumped snow everywhere.) But given the inordinately close relationship between Putin and the Trump administration, we feel it is unlikely that Britain will turn there for help and advice. And relations between Britain and the EU aren't exactly rosy just now either.
Putin is, unlike his American counterpart, a highly calculating man. We believe he may be testing the UK right now simply because it is increasingly isolated and left to its own resources. Simply to see what happens.
How Johnson responds will be fascinating to watch.
THE BBC's latest reporting follows:
Sergei and Yulia Skripal were found unconscious in Salisbury on Sunday afternoon and remain critically ill.
A police officer who was the first to attend the scene is now in a serious condition in hospital, Assistant Commissioner Mark Rowley said.
Nerve agents are highly toxic chemicals that stop the nervous system working and shut down bodily functions.
They normally enter the body through the mouth or nose, but can also be absorbed through the eyes or skin.
Mr Rowley, head of Counter Terrorism Policing, said government scientists had identified the agent used, but would not make that information public at this stage.
"This is being treated as a major incident involving attempted murder, by administration of a nerve agent," he said.
"Having established that a nerve agent is the cause of the symptoms… I can also confirm that we believe that the two people who became unwell were targeted specifically."
He said there was no evidence of a widespread health risk to the public.
Two other police officers who attended the scene were treated in hospital for minor symptoms, before they were given the all clear. It is understood their symptoms included itchy eyes and wheezing.
Analysis
By Richard Galpin, BBC News correspondent – formerly based in Moscow
The announcement by the police that Sergei Skripal and his daughter Yulia are the victims of an attack in which a nerve agent was used makes the parallel with the poisoning of former Russian spy Alexander Litvinenko in London in 2006 even stronger.
Like the radioactive polonium used to kill Litvinenko, a nerve agent is not normally something criminal gangs or terrorist groups can make.
Instead, it is usually manufactured by specialist laboratories under the control of governments – and that inevitably means suspicion will now be very much focused on Russia.
Not only does it have a track record of using poisons to assassinate its enemies, there is also a motive in the case of Sergei Skripal.
As a military intelligence officer in Russia, he betrayed his country by providing information to MI6, reportedly revealing the identities of Russian agents in Europe. And Russian President Vladimir Putin has in the past indicated that traitors deserve to die.
Although the question remains, why would Mr Skripal be attacked now when he has been living in Britain for eight years and came here originally as part of a spy swap?
Mr Skripal, 66, and his 33-year-old daughter were found slumped on a bench outside the Maltings shopping centre.
Police want to speak to anyone who was in the city centre on Sunday afternoon.
They are particularly keen to hear from people who ate at Zizzi or drank in The Bishop's Mill pub between 13:00 and 16:00 GMT.
Both of those locations remain closed to the public.
There is also a cordon in place outside Mr Skripal's Salisbury home. A yellow forensic tent has been erected and police have been seen carrying equipment into the building.
Mr Rowley said hundreds of detectives, forensic specialists, analysts and intelligence officers were working round the clock on the case.
The investigation in Salisbury may take several more days, he added.
Prof Malcolm Sperrin, fellow of the Institute of Physics and Engineering in Medicine, said: "Symptoms of exposure to nerve agents may include respiratory arrest, heart failure, twitching or spasms – anything where the nerve control is degraded.
"Nerve agents can cause death, but not necessarily at low-level exposure or with a minor dose."
Alastair Hay, emeritus professor of environmental toxicology at the University of Leeds, added: "These are very difficult and dangerous chemicals to make."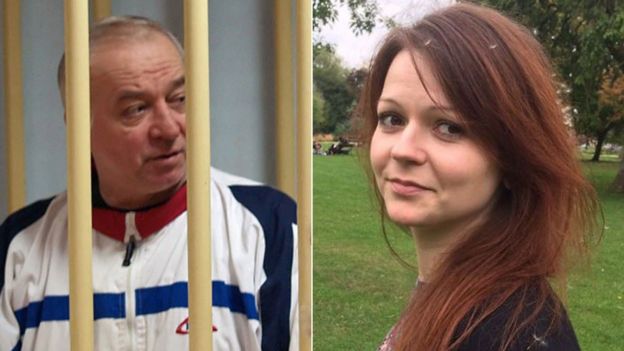 A public inquiry concluded the killing of the Russian dissident Alexander Litvinenko in 2006 was probably carried out with the approval of President Putin.
On Tuesday, Foreign Secretary Boris Johnson told MPs the UK would respond "robustly" to any evidence of Russian "state responsibility" in the Skripal case.
Russia has insisted it has "no information" about what could have led to the incident, but is open to co-operating with British police if requested.
Russian Foreign Ministry spokeswoman Maria Zakharova said foreign media had used the incident as part of an anti-Russian campaign.
"It's a traditional campaign. The tradition is to make things up. We can only see it as a provocation," she said.
Who is Sergei Skripal?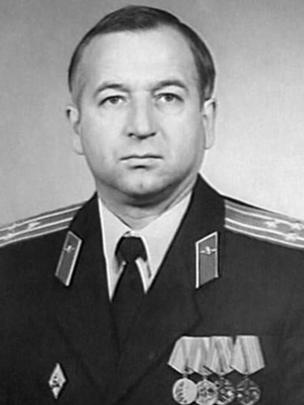 Colonel Skripal, a retired Russian military intelligence officer, was jailed for 13 years by Russia in 2006.
He was convicted of passing the identities of Russian intelligence agents working undercover in Europe to the UK's Secret Intelligence Service, MI6.
In July 2010, he was one of four prisoners released by Moscow in exchange for 10 Russian spies arrested by the FBI.
After a Cold War-style spy swap at Austria's Vienna airport, Col Skripal moved to Salisbury, where he kept a low profile for eight years.